Sod Installation
Why wait when you can have it Today!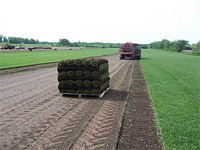 Today we expect convenience, efficiency and quality in our products. Buildings are going up almost overnight and attractive landscaping is installed in hours. Why wait 1 or 2 years for a new lawn to struggle to maturity when you can have a beautiful sod lawn complimenting your project right now. That high quality sod lawn can be conveniently installed in hours, at a surprisingly low cost.

Sod can be installed practically anywhere, even where seeding is impossible or too costly. Sod is often used to stop soil erosion and water pollution on slopes where rain would wash away both seed and soil.

Sod is 99% weed free, grown under expert supervision from top quality certified sod seed. After it's been installed, just water, mow and fertilize your sod lawn as needed and it will remain a healthy, green carpet of grass, requiring very little maintenance.

Click here is you would like to receive a Free Consultation for Sod at your home

Click on the images below to view a larger display.


Photo 1

Photo 2

Photo 3