Landscape Company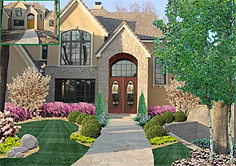 When you are getting any landscape designed and installed, you know that you want it to look a certain way. You may have seen some design a concept and theme you liked, online or may have some specific ideas in mind. At times, homeowners aren't too sure about what kind of design concept they want to use in their landscaping and would need to hire a landscaping company that would be able to work closely with them and provide them the kind of solutions that would encourage them to use these spaces more often.
Proscape Landscaping is a company that has been providing high grade solutions to customers across Alton, Bethalto, Brighton, Belleville and Caseyville. Over the years, the company has also built a very strong presence across Collinsville, Edwardsville, Godfrey and Glen Carbon as well as Fairview Heights. They provide excellent landscaping solutions to customers. The ranges of services they provide are:
Landscaper
When you first contact the company, they will send out an expert landscaper over to your location. The professional will survey the space that has to be designed and will then chalk-out a detailed plan for the landscaping. The landscapers will take your requirements into account and will ensure that the right kinds of features are included in the plans. A skilled and creative landscaper will look at various aspects including the grading of the land as well as things such as drainage and irrigation.
Landscaping
Every landscape is always an amalgamation of various elements and features. These include softscaping, hardscaping, water features, retaining walls, Outdoor kitchens, patios, decks, fireplaces and fire pits as well as various other outdoor installations. The company you hire for the landscaping will ensure that all these elements are used in the right measure and that the right balance is maintained in the landscaping; and the overall look adds to the curb appeal of your property. 
Landscaping Ideas
Even before the actual landscape installation begins, it's important that you discuss all your landscaping ideas in detail, with the landscape company. If you have some ideas, they will work on those and provide plans that match your requirement. On the other hand, if you aren't too sure about what kind of plans you want, they will work closely with you to ensure that the final outcome is in line with your requirements.

There are a number of different concepts and themes the landscapers can work on. However, they have to be skilled enough to judge what will work well in your landscape setting and complement the appearance and architecture of your home structure. The solutions the company provides should be in line with the cost you have in mind and should meet your functionality requirements too.

Landscape projects aren't something that can or should be taken lightly. This is why it's important that you hire the services of a company like Proscape Landscaping that would be able to provide you with custom solutions at pricing that fits in perfectly into your project.

MORE ARTICLES