Pavers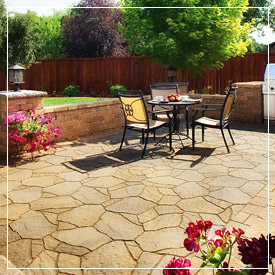 The outdoor spaces on your property are largely open to the air and have to withstand climatic changes and other regular wear and tear as well. This is why it becomes important to use materials that will be hardy and long-lasting. When it comes to outdoor flooring materials, pavers are a very popular for they are versatile, durable, easy to install and very low in maintenance.
Proscape Landscaping is a company that has been providing high grade solutions to customers across Alton, Bethalto, Brighton, Belleville and Caseyville. Over the years, the company has also built a very strong presence across Collinsville, Edwardsville, Godfrey and Glen Carbon as well as Fairview Heights. They provide excellent paver solutions to customers. The range of paving services the company provides is:
Paving Stones
Some landscapes are expansive and have a lot of hardscaping on them. In addition to a driveway, walkways and pathways, there are spaces like patios, decks, poolscapes, entranceways, porches and other areas where paving stones can be used as a flooring material. These are made of natural stones such as bluestone, slate, flagstone and travertine etc.
Patio Pavers
When you build a patio, you want flooring solutions that will be able to withstand the wear and tear that the space sees. In addition, it would have to bear climatic changes and will be exposed to dirt and debris too. This is why using patio pavers in this space is a good idea. These pavers could be made of concrete, brick or natural stone.
Concrete Pavers
These are very popular materials in landscaping applications for a number of reasons. They are extremely strong and long-lasting, are available in a range of colors, textures and designs and can be used for driveways, walkways and paths etc.
Brick Pavers
Brick is very classic material and exposed brick surfaces are used in the exterior walls of homes as well as in the landscaping. When people are getting driveways, patios or decks installed, they like to use brick paving in the installation; this helps create a very cohesive look on the property and adds to the charm of the space.
Paver Stones
You can choose to get interlocking paving stones for the outdoor areas of your property. These are very attractive and you can seal the surfaces to protect them from stains and dirt.  You can choose from a range of natural stones that are available in a variety of colors and styles. There are rough cut stones as well as smooth edged, machine cut stones that will add to the beauty of your property.
Driveway Pavers
The driveway on your property sees a great deal of wear and tear and you should choose your driveway pavers with care. You will find there is a large variety available and you can choose from concrete, brick or natural stone paving for your driveway. These are very hardy materials that are able to withstand the elements well.
Landscape projects aren't something that can or should be taken lightly. This is why it's important that you hire the services of a company like Proscape Landscaping that would be able to provide you with custom solutions at pricing that fits in perfectly into your project.
MORE ARTICLES