Landscaping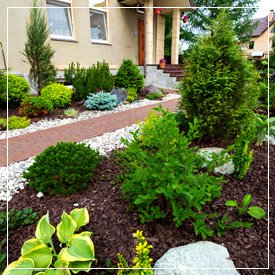 Every residential property owner wants their landscaping to be unique and attractive in every way. It's why they hire expert landscaping professionals for their garden design and installation projects. These professionals use their expertise and .knowledge to provide unique solutions to their clients.
Proscape Landscaping is a company that has been providing high grade solutions to customers across Alton, Bethalto, Brighton, Belleville and Caseyville. Over the years, the company has also built a very strong presence across Collinsville, Edwardsville, Godfrey and Glen Carbon as well as Fairview Heights. They provide excellent landscaping solutions to customers. The range of services the company provides are:
Landscape
Your landscape is one of the first things that can be seen by anyone who looks at your property and it becomes the backdrop for your house as well.  This means you should pay as much attention to designing it, as you would your home. Many homeowners feel that landscape design isn't such a complex job and that all they have to do is get a few trees and plants installed and get a few decorative features to add to the space. This is far removed from the truth and designing a landscape requires skill and   creativity.
Landscape Design
The design concept used in the landscaping is what decides what the overall appearance of the garden and yard will be. In fact, its appearance will also have an impact on the look of your property. Design is part of the first phase of any landscape project; the landscapers first understand what your specific requirements are. They will then survey the space, understand what your preferences are and check the architectural elements used in your home and provide unique designs.
Lawn Care
Turf care is a very important aspect of overall landscape maintenance. Lawn spaces can look good and stay healthy only if they are cared for with regularity. This is why it's important to hire the services of a company that would be able to provide customized plans that include things like mowing, de-weeding, trimming, aeration, pest control, fertilization, irrigation and drainage etc.  They should also be able to provide you excellent custom solutions and personalized services.
Landscapers
Choose your landscapers with care. Check their reputation and experience; and understand whether they have the creativity and ability to cater to your specific requirements.  They should be able to provide good design concepts, be willing to incorporate your ideas and manage the actual installation work to your 100% satisfaction. Very few companies provide this kind of customized service and you should hire one that would be able to do this for you.
Landscape projects aren't something that can or should be taken lightly. This is why it's important that you hire the services of a company like Proscape Landscaping that would be able to provide you with custom solutions at landscape design pricing that fits in perfectly into your budget and requirement. 
MORE ARTICLES