Water Features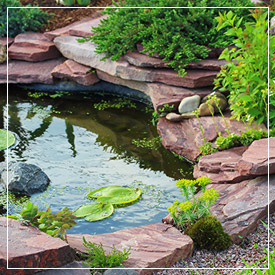 Creating excellent landscape design is a lot about ensuring that the different elements and features are used in the right measure to create a whole that looks stunning and adds to the functionality and value of your property. Plants, trees and shrubs are an essential part of any landscape and so are features such as driveways, patios and decks. Many people also like to get fireplaces and fire pits installed on their property; and the one way to balance out the look of the landscaping is to get water features installed on it.
Proscape Landscaping is a company that has been providing high grade solutions to customers across Alton, Bethalto, Brighton, Belleville and Caseyville. Over the years, the company has also built a very strong presence across Collinsville, Edwardsville, Godfrey and Glen Carbon as well as Fairview Heights. They provide excellent water feature solutions to customers. The range of services the company provides is:
Water Fountains
When it comes to adding water features to a property, many people choose to get water fountains installed. In many ways, a beautiful fountain positioned at the right spot in the landscape can become the focal point of the space; and the rest of the features can be designed around it. Some homeowners also choose to get more than one fountain installed in their garden or yard and this can add a very charming look to the outdoor spaces on the property. You can choose to get a concrete, stone or even an iron water fountain installed.
Waterfalls
Adding a waterfall to your backyard is a great way to add freshness to the landscape. The company that handles the installation for you would be able to design and install the kind of rock waterfall you want. In fact, you can choose to have one without a pond at the base too. These features are perfect for smaller patios or yards as they have a more compact footprint. If you like, a stream can be added to the waterfall feature as well, if you like.  The cascading water is a great way to dull traffic sounds in case your property is situated in a very busty locality.
Backyard Ponds
Adding a backyard pond to your property creates a very quaint ambience in the outdoor spaces of your home. Many people are now opting to get Koi ponds installed in their yards. These ponds can have Koi fish in them and aquatic plants too. It's important that the location of these features be planned with care as both, the plants and fish need a certain amount of shade to live in. The landscape company will provide you with the best design and ideas to build the kind of pond you want.
Landscape projects aren't something that can or should be taken lightly. This is why it's important that you hire the services of a company like Proscape Landscaping that would be able to provide you with custom solutions at pricing that fits in perfectly into your project.
MORE ARTICLES