Retaining Walls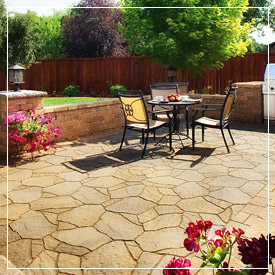 Retaining walls are specially engineered walls that are constructed to provide support to the landscaping. There are times when certain areas of a property have to be either graded or excavated to make space for features like an outdoor kitchen, driveway, patio, decking or some other outdoor feature. This leaves a large portion of the soil exposed and this can be dangerous to the landscaping. This is where retaining walls are built to support the rocks and prevent soil erosion.
Proscape Landscaping is a company that has been providing high grade solutions to customers across Alton, Bethalto, Brighton, Belleville and Caseyville. Over the years, the company has also built a very strong presence across Collinsville, Edwardsville, Godfrey and Glen Carbon as well as Fairview Heights. They provide excellent retaining wall solutions to customers. The range of services the company provides is:
Retaining Wall Blocks
Concrete Masonry Units which are also referred to as CMUs are extensively used in the construction of retaining walls. These are modular blocks that are extremely easy to install; they are strong and easy to maintain as well. If you find the concrete surface too plain, you have the option to clad the surfaces with either brick or stone veneer and this adds a very unique look to the installation.
Concrete Blocks
Concrete blocks are a very strong and long-lasting material that is used in retaining wall construction. These blocks have an interlocking design, which makes the construction pretty easy. It is possible to construct lengthy walls using these blocks, within the shortest possible time. It's possible to incorporate planters into the retaining walls structure to make them more functional. Concrete blocks are highly cost-effective; and since they last for a very long time, they provide value for money as well.
Building A Retaining Wall
While it may seem that building a retaining wall using concrete blocks is easy, the fact is that it's a specialized job. Some retaining walls are also built using either brick or natural stone. Regardless of the material used to construct the walls, it's important to choose the landscaping company with care. They will deploy expert stone masons in the work and will ensure that the job is completed in an expert manner.
Retaining Wall Designs
While retaining walls are essentially functional features that add to the integrity and stability of the landscaping, it's possible to beautify these structures as well. In fact, many landscapers construct dual functionality walls in their projects. These could be half-height walls that have in-built seating or planter spaces built into them. The other aspect is the surfaces of concrete retaining walls. These can be clad with brick or stone veneer, to give them the appearance of that material, but at a significantly lower cost.
Landscape projects aren't something that can or should be taken lightly. This is why it's important that you hire the services of a company like Proscape Landscaping that would be able to provide you with custom retaining wall solutions at pricing that fits in perfectly into your project.
MORE ARTICLES